Happy to say GRAFITTI KISS is now out and available on iTunes. this project is basically a solo project with special guests Nick Spidaletto/Guitar and Hearn Gadbois/Percussion joining me as well. I am singing and saying my poetry, with layers of flute, vocal harmonies/alto sax and guitar. The tone of the CD is eclectic, jazz inspired and spans many topics..... Check it out on iTunes. You can go directly to:
www.cdbaby.com/cd/sarahjames  
to hear trax or just go to iTunes and search for   sarah james grafitti kiss!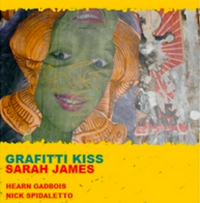 Share on your FB page if you are so inclined....