Wishing you a Brilliant Winter Solstice and a Safe Holiday Season!
One of my favorite songwriters, Leonard Cohen, wrote this tune and here is my version...
Here is one of my poems with The american Tribal Ensemble Recorded in the early 90's and I recently created this video for the poem...
Below is a video I created from a 1999 recording of one of my poems, with The American Tribal Ensemble.
So looking forward to this gig! Hope to see you!!!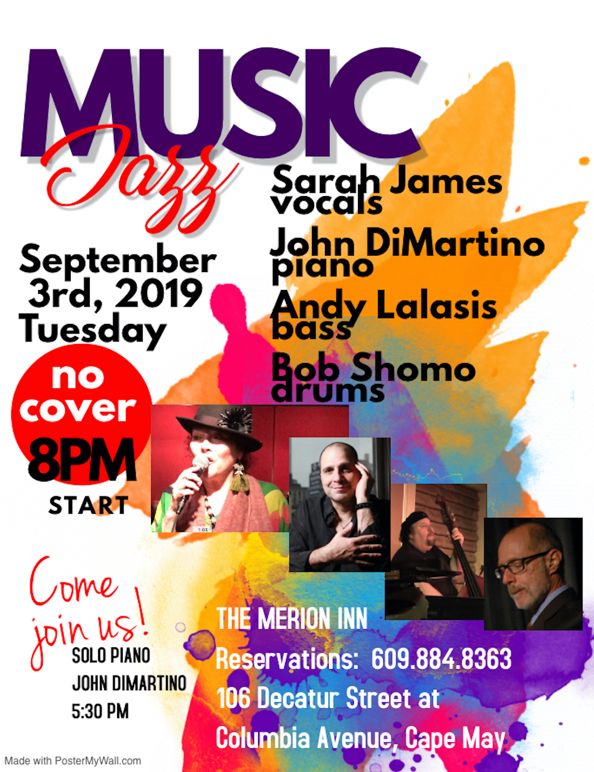 LOOKING FORWARD TO SINGING AT THE CUPPING ROOM NYC ON JUNE 28, 2019 with JOHN MENEGON/BASS and STEVE BERGER/GUITAR
HOPE YOU CAN JOIN US!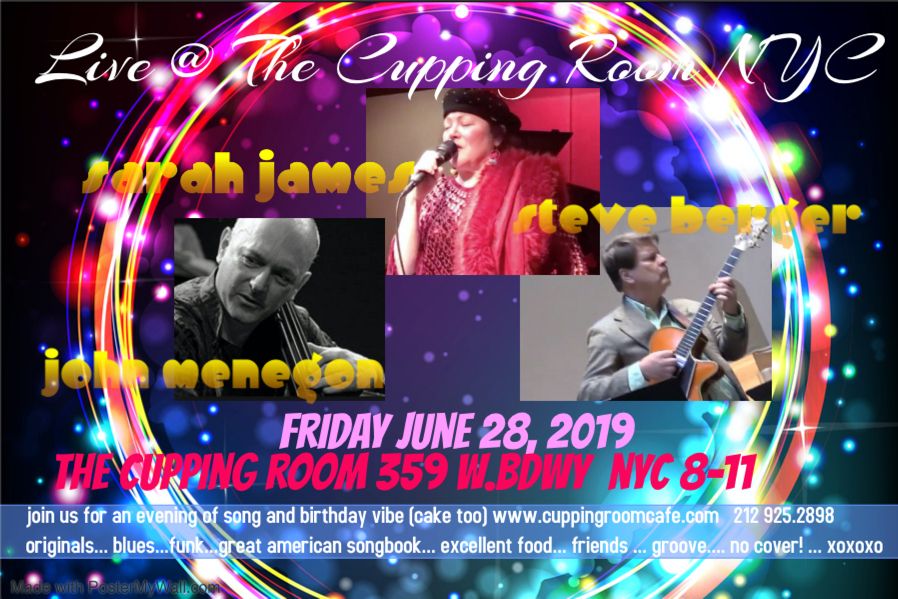 Looking Forward To Performing With
LEE TOMBOULIAN PIANO
RATZO HARRIS BASS 
FRIDAY MAY 3, 2019 
THE CUPPING ROOM NYC
Thank You Ruth Pagan!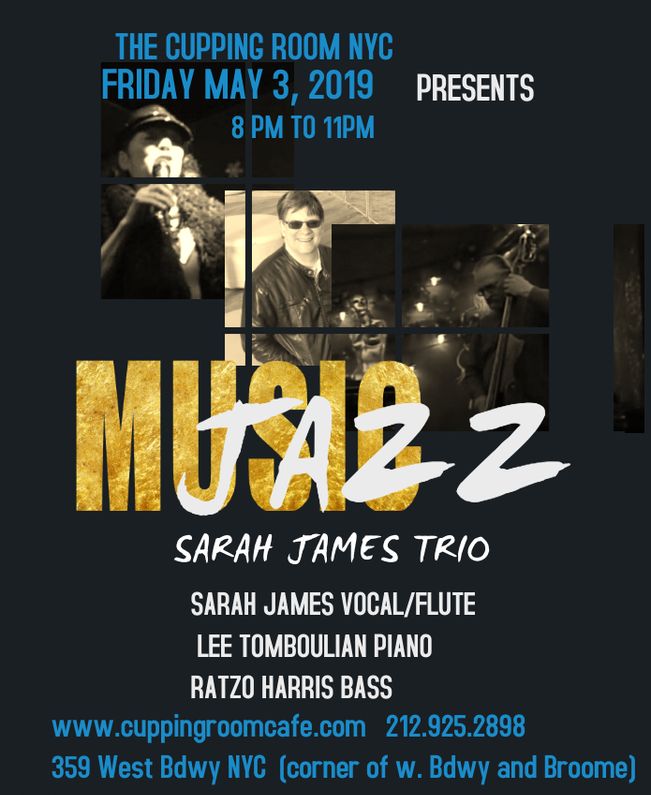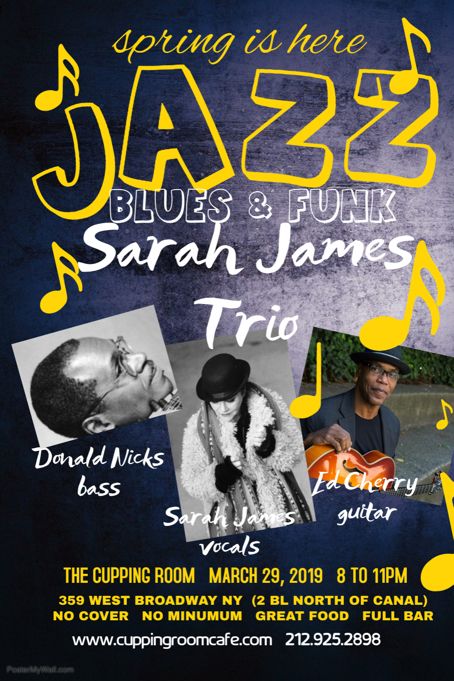 The Zappa Choir was a fabulous success! The band played great and the house was full... Music is my joy in life!!  I'll be singing with Betty and her Trio tomorrow, Saturday...... Hope to see you!!  :>)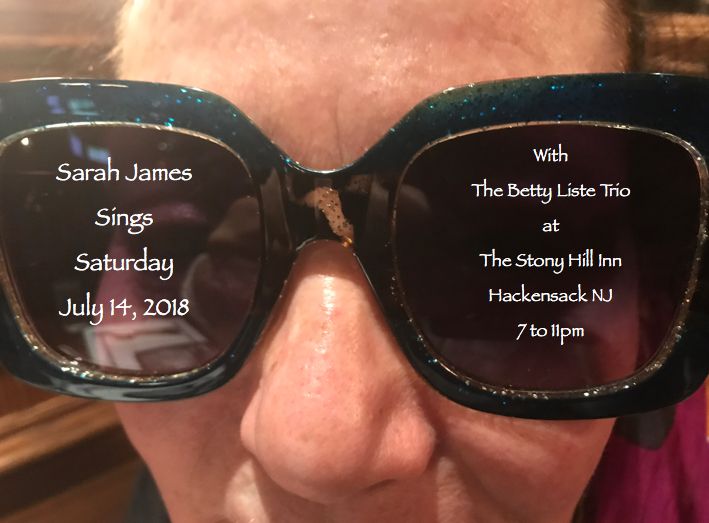 Tonite July 11, 2018 I will be singing with ZAPPA::ANA ACHOIRED TASTE at Cornelia st Cafe in NYC from 6 to 7:15 pm. We had a rehearsal last night and the band sounds great! 12 voices plus rhythm section. Lee Tomboulian arrangements. Get there early!!! :<)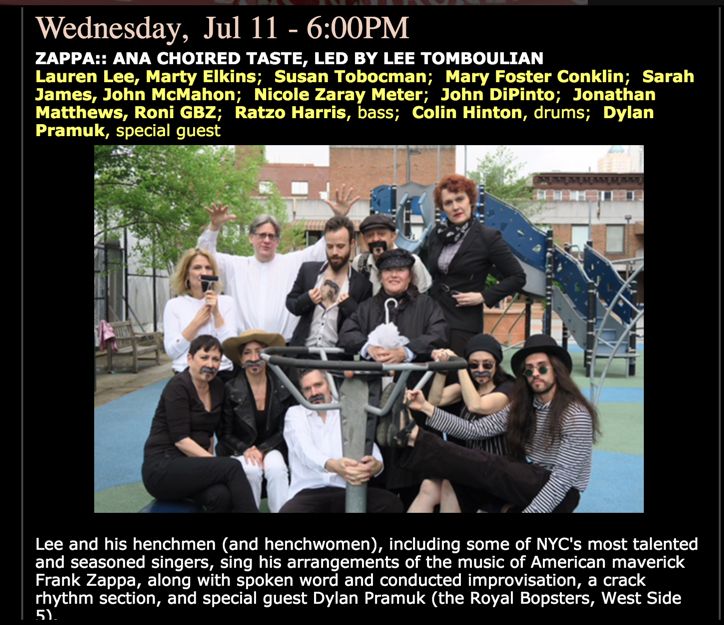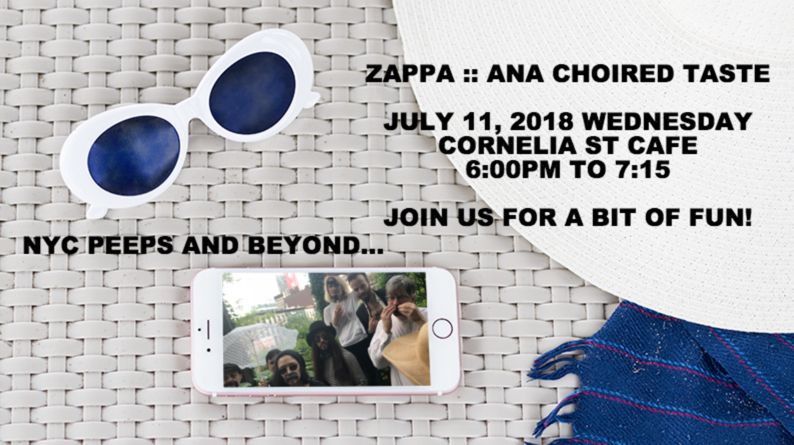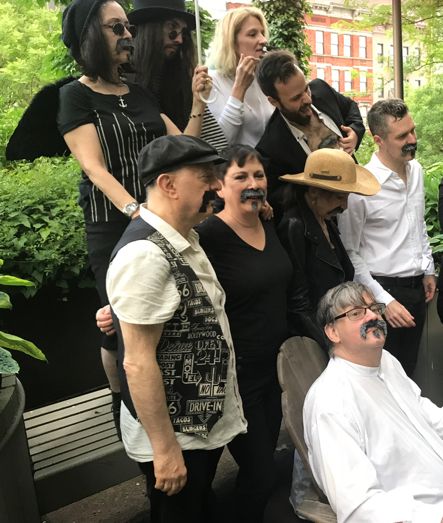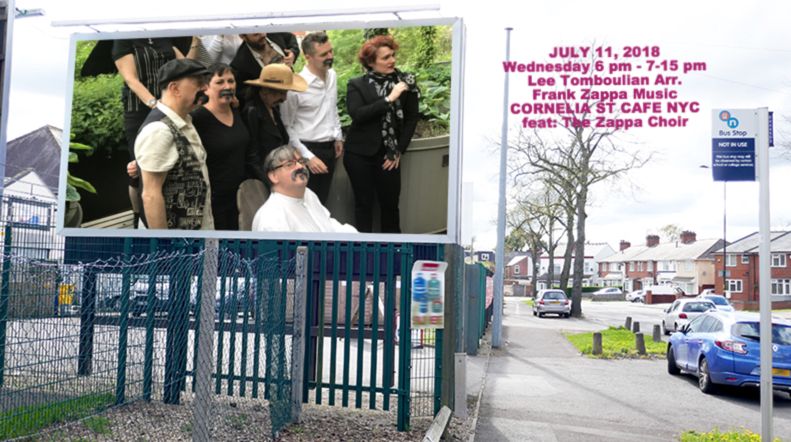 Thanks for visiting my site.... There are many things to see and listen to here, I hope you can relax and peruse. Call for reservations at the KITANO! It is the first time I've played in NYC in quite a while. I'll be singing original material, some blues and a few standards. The Kitano has a very eclectic menu, check it out at www.kitano.com   Hope to see you! and Every Blessing for 2018! 
xoxoxooxooxx
sarah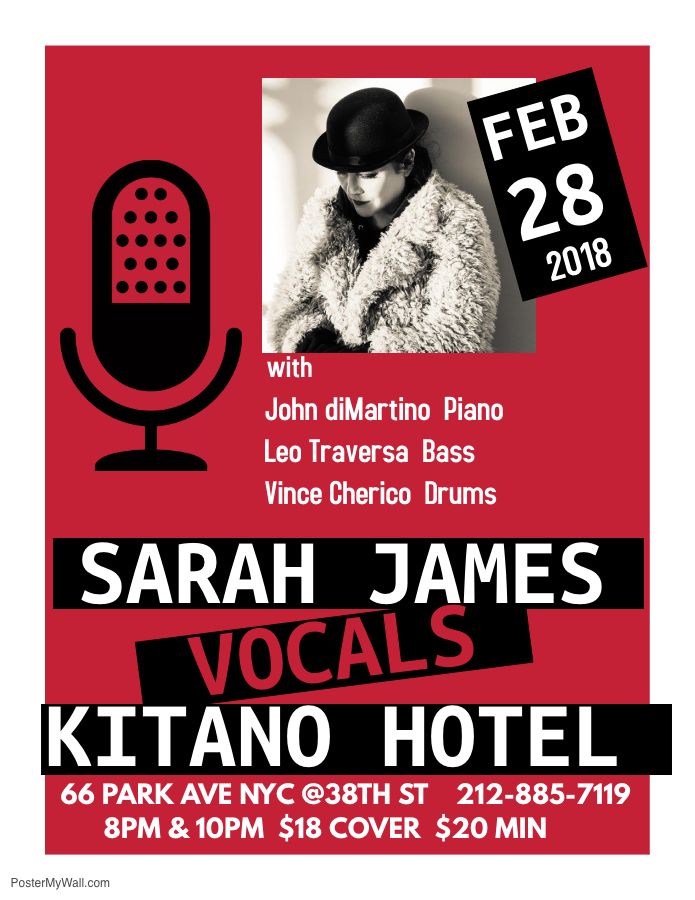 Thrilled to say my new cd is available on CD Baby now! CD Baby has just received my first copies of EASTERN STANDARD TIME! I'm just happy! The CD is wonderful and I am very pleased with all the music on this project. Hope you can pick up a copy soon, click on the music tab and purchase right there..... thank you!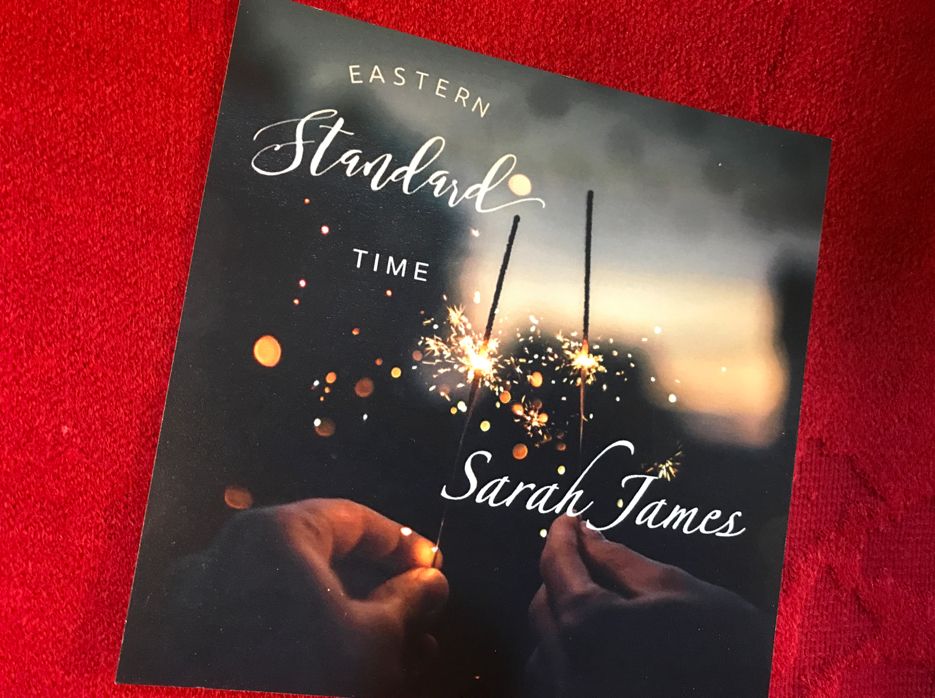 "You are exposing your heart and your pain ... as only a mature and real artist can. It's stunning ... Your voice is so warm and real..."  Nora M.
"Your voice is so natural and unpretentious... I listened to this CD 5 x straight..."  Gary V
" I listened to your CD 2 times in the car while driving home from from work.... it's awesome, I love it! "  Karen L
~~~~~~~~~~~~~~~~~~~~~~~~~
July 22, 2017  Looking Forward to Tonite!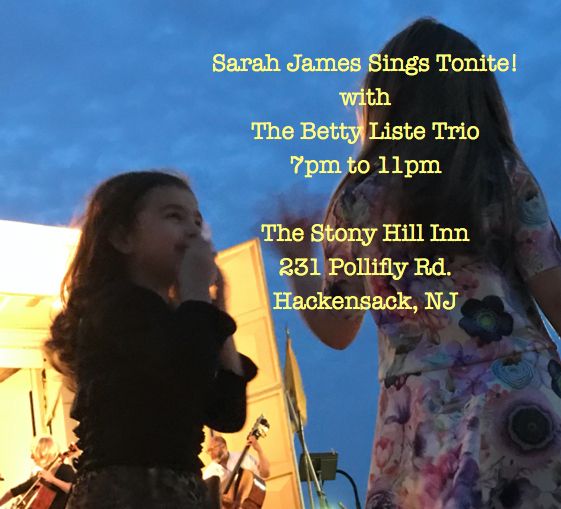 ~~~~~~~~~~~~~~~~~~~~~~~~~~~~~~~~~~~~~~~~~~~~~~~~~~~
Below is  a flyer for a recent gig in Cape May NJ at the Merion Inn on Decatur St. We had a fabulous night! The audience was wonderful... they listened to every note! Thank You to Vicki Watson and all the staff at The Merion, truly an honor to sing there....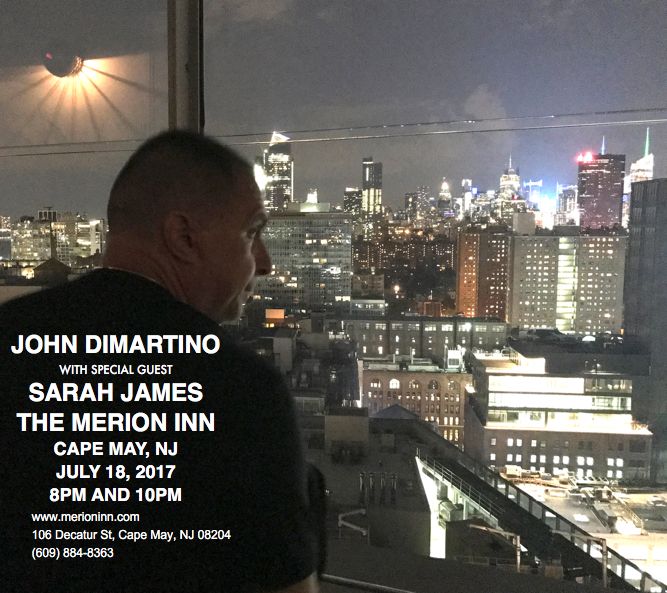 Looking Forward to fridays gig at FARAFINA! Great Band....... Stop on by if you can!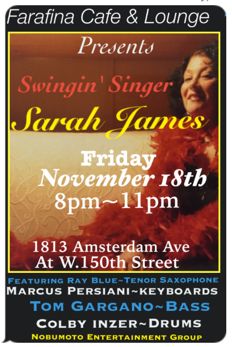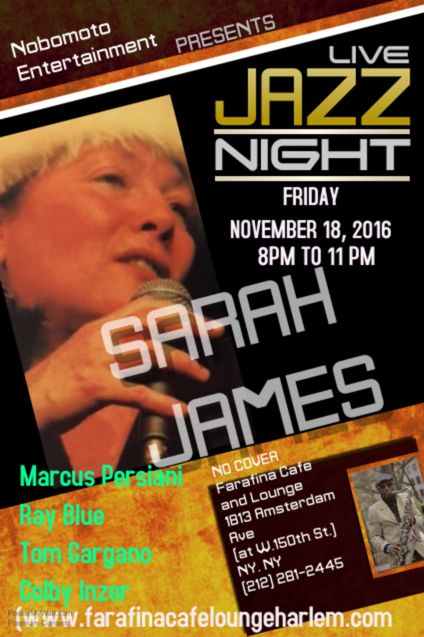 I have been creating many videos for my music, my poetry, for other artists and very busy creating new websites for my endeavors!  Here are a few links to check out if you are so inclined! If you go to my general you tube please subscribe and like the vids! Thank you VERY MUCH in advance!!!  
Also like and share anything you find interesting.... I'll be posting some of my SARAH'S AROMA JAZZ vids soon....!!!
www.youtube.com/sarahjamesjazz 
https://www.facebook.com/La-Femme-Jazz-Poetix-1683756135170694/
Just had a fun gig at the 5C Cultural Center in NYC. Many thanks to all who came and especially to Kim Clarke the great bassist who organized the event. This year was her 14th ANNUAL WOMEN IN JAZZ MONTH LONG CELEBRATION! Check out her FB page for more details! 
https://www.facebook.com/groups/43001302979/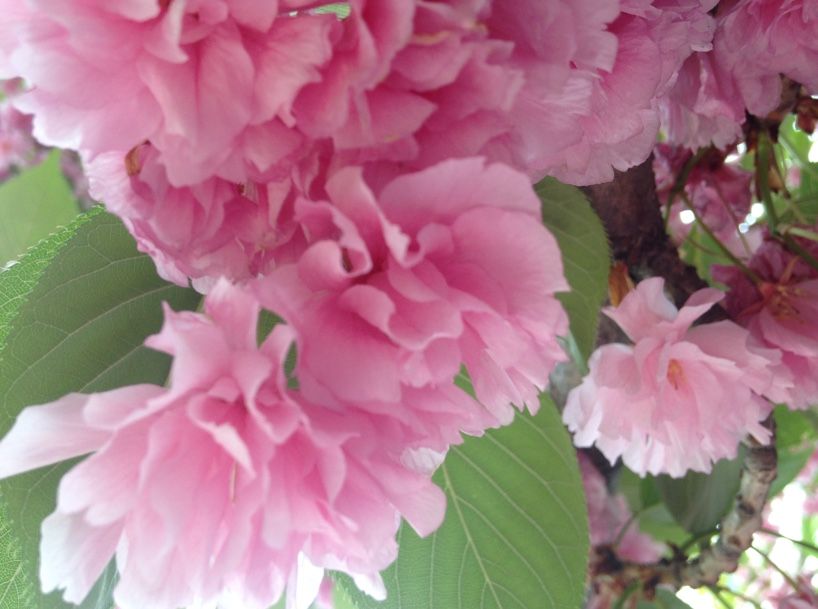 Every blessing and good luck to you in this the year of the Fire Monkey! Things on my end have been "very busy". I hate to say that but it's true. Saturdays once a month at The Stony Hill Inn in Hackensack with Betty Liste on piano and her trio, still doing singing telegrams and children's entertainment, working on my music (Yay!) I should soon have some on my originals up on the "fun store" page and..... went on the JAZZ CRUISE again this year and have some videos I will be sharing and.... well, enough about me... Hope the world is treating you well. Spring is just around the corner... I'm anticipating with great relief... we just had below zero temps here in the New York area...    HAPPY VALENTINES DAY!  2.14.16  
Almost December and the Holidays are here...  Wishing everyone a safe and blessed holiday season. I have to tell you about a sweet new place to go and hear some great jazz in NYC, It's a club called Rue B, on Avenue B in the East Village. I have been going on Sundays for the 8:30 set, which lasts about an hour and then it's a jam session.  This past sunday, the owner of the club, Michael Camacho, did the 8:30 set. He sounds great! A mix of Mark Murphy, r and b crooner vocals, Sammy Davis and Sinatra, but cool! Scatting like crazy and very nice arrangements. Did "If I Only Had A Brain" ballad style...  nice!!  The evening is run by Jocelyn Medina and she herself is a lovely singer. Andrea wolper was ther for the jam session as was Gitesha , who did a beautiful version of "You And The Night And The Music".... It was a stellar night of music. Also sitting in was Dan Block on tenor saxophone and a great trombonist (whose name I did not catch unfortunately).... anyway.... go on Sunday night!
Next Sunday, the fabulous Michelle Walker will be there! 
Hello and Welcome to my site...
What's New? How Is The World Treating You.......
Fall is here, the garden is done bearing fruit, the tomatoes are almosr all gone and frost will appear soon.... My summer was very intense and I didn't even get to go swimming once in the ocean. I did put my feet however and we had a very warm September so far. so I am hoping for one more trip with maybe  dip....
New York is hopping with music! Wow! I am working on some food websites and doing a few gigs here nd there. Someone stole my computer and much of my digital gear on September 5th and I am trying to recouperate! I have to replace the computer!!! I started a "go fund me" campaign to raise some cash to get another one... Here is the link and I would love it if you might be able to contribute to the kitty to help me get a new one! Calling all ANGELS!!!
http://www,gofundme.com/computerforsarah
I hope you and yours are doing well and come on over to my face book page and LIKE MY PAGE!    i will be posting new videos and new stuff as soon as I cn get a new computer!!!  Until then.... Love and Music!!!
Sarah
Looking forward to Saturday May 16th, 2015 for an evening of Jazz, R'nB, Great American Songbook and Pop tunes with the Betty Liste Trio... 
We have been having a great time and we invite you to join us from 7:30pm to 11:30pm...See You Then!!
Coming up April 25, 2015 from 7:30pm to 11;30pm
I'll be singing at the Stony Hill Inn in Hackensack NJ with the Betty Liste Trio... It's should be a fun evening!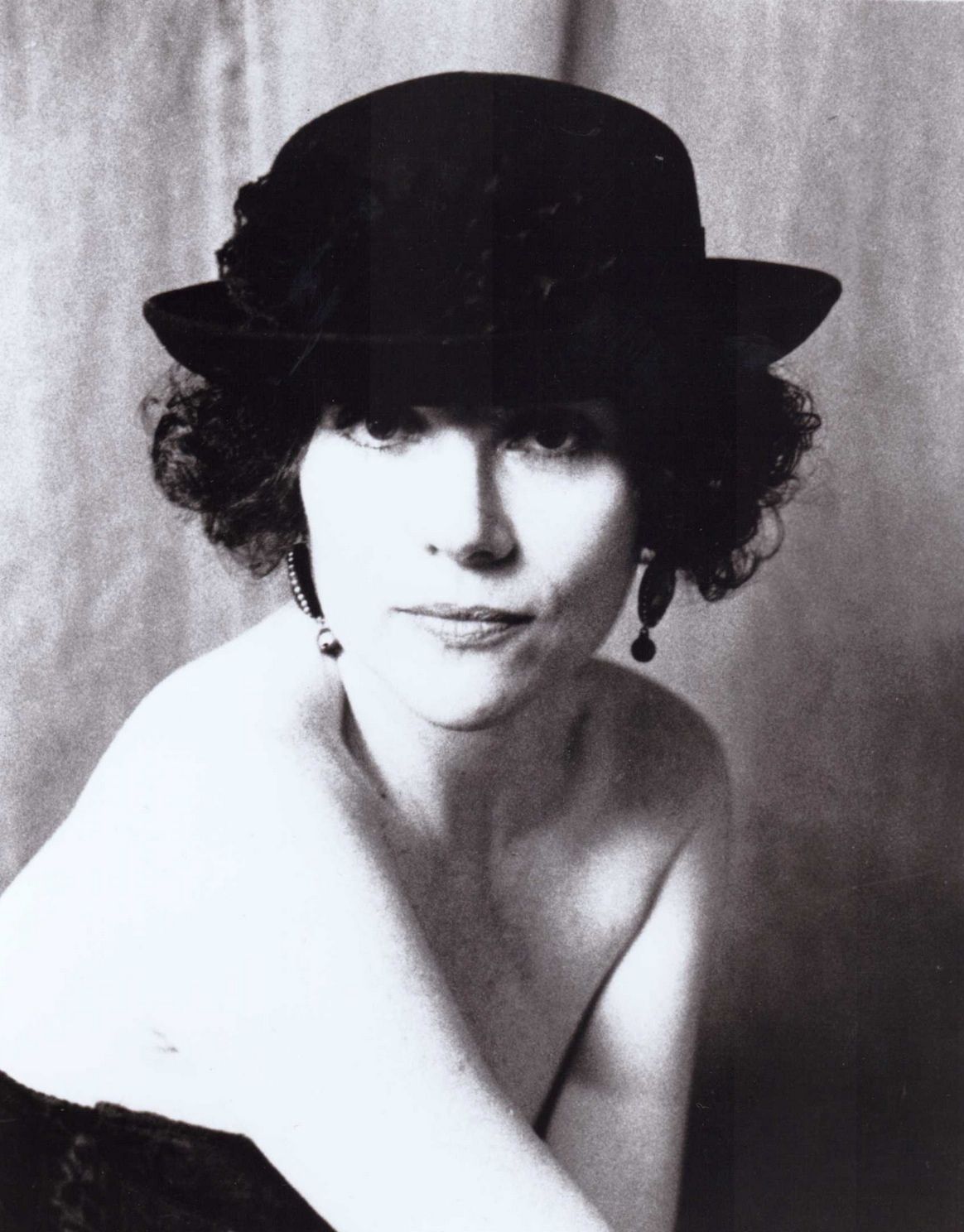 Happy Spring 2015!
It was sunny and warm here in the NY area. I spent the day cleaning up the garden and checking out the new buds coming in! 
Last friday, April 3rd, 2015 The Artemis Poetry Collective had it's 2nd event in NYC at the Westbeth Artist Housing Community Room. What a cool evening of poetry and song, improv and sharing thoughts... We are aiming to produce this event once a month for the whole year of 2015. Gitesha, Ratzo Harris, Ras Moshe, Eve Zanni, Patricia Zapata, Richard Williams, Lee Tomboulian, along with Laura, Gayle and Nora McCarthy contributed words and sound. I brought some framed photographs and some of my photographic cards and Gitesha brought her hand silkscreened T-Shirts and paintings.  We are an evolving new group utilizing original poetic work and fusing sounds. Experimenting and Stretching! Updates will be following!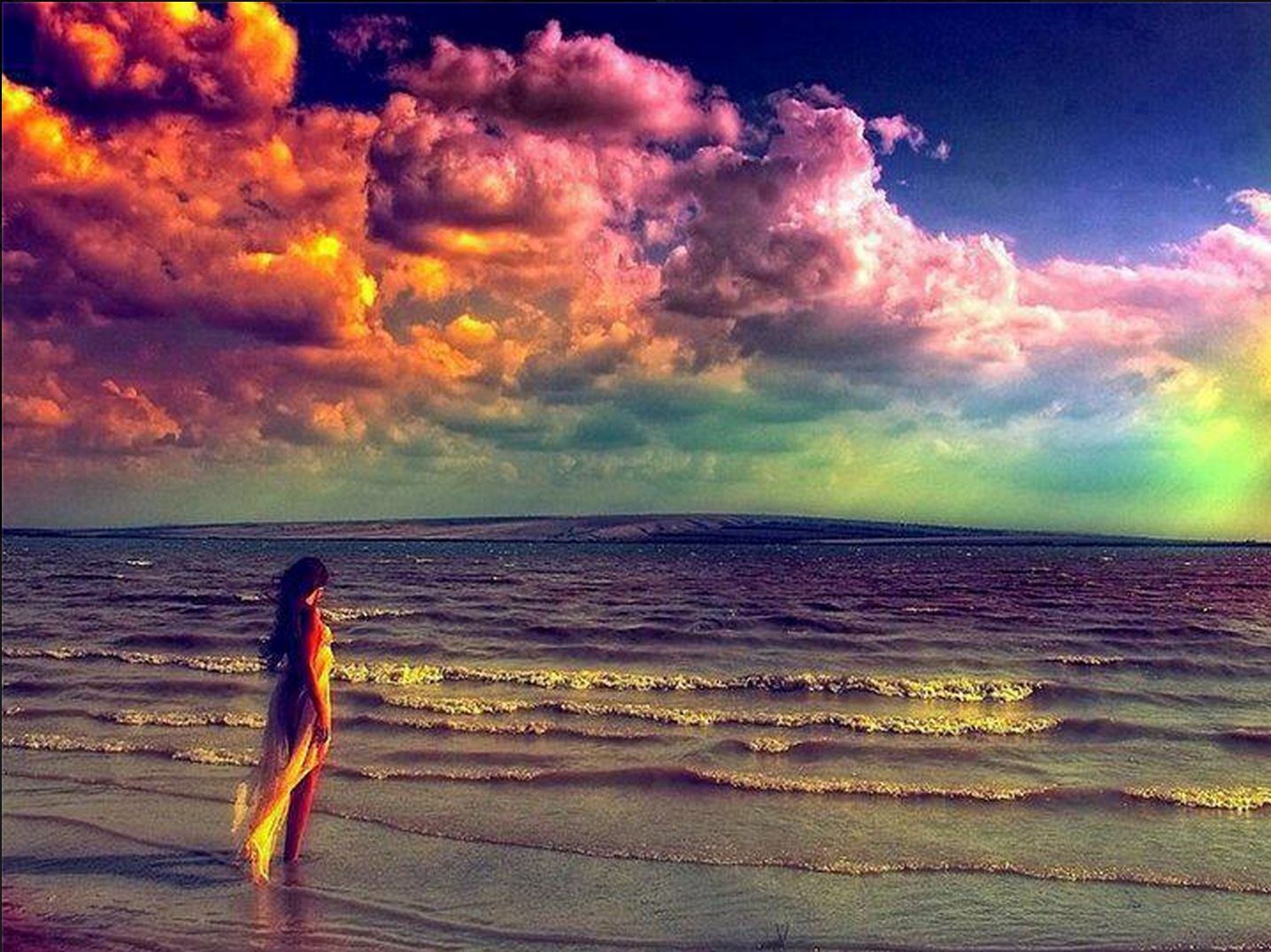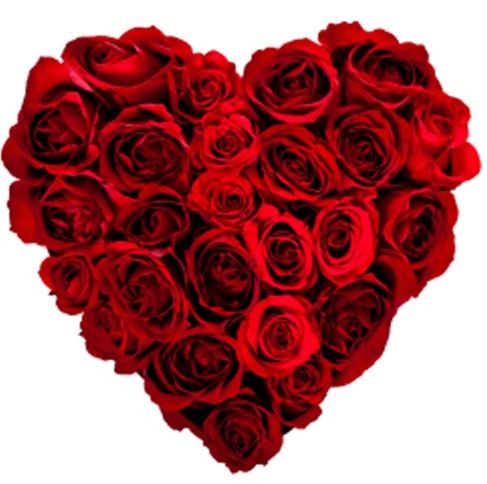 Hello Friends!
Happy Valentines Day! I hope you are surrounded by love and caring and this mean old world isn't bothering you...
Had a nice day today, did a singing telegram for someone and sang that John Legend tune "All Of Me" really nice love song... Also saw some original artwork by the great Peter Max at the Short Hills Mall (where the telegram was)... Wow! What color!!
Check out my latest CD on iTunes Grafitti Kiss! 
www.cdbaby.com/cd/sarahjames or just type in sarah james  grafitti kiss and wha la!
Hello and Happy Holidays! 
It's been quite a year... I hope 2015 brings you happiness and good health... Please check out my You Tube channel:
sarah james sevenmoonsred
I have been creating many videos for singers and musicians and expect to continue doing that through out 2015. So subscribe and leave a comment! It helps with SEO!!
Also, visit my Facebook page:sarahjamesjazz and hook up! Follow me on Twitter and let me know what you are up to!
Wishing you Love, Light and Beautiful Music!
Sarah  
Spring is coming and it's a new year....
Wishing you spring fever, lots of daffodils in your yard (or flowerpots) and the sweet scent of the earth blooming.... 
All The Best,
Sarah
Visit and Subscribe to my You Tube Channel
My You Tube channel is: www.youtube.com/sevenmoonsred I post videos of my music and poetry that I create there. Come on over and check them out.... Please subscribe to my channel and comment! Here's the newest one: Poetry and Song... "KEEP DANCING" Teri Roiger on Piano accompanying me.